Women Environmental Programme (WEP) at the 24th Session of the Conference of Parties (COP24) to the United Nations Framework Convention on Climate Change (UNFCCC) holding in Katowice, Poland, presented smart projects and practices that can contribute towards achieving the Nationally Determined Contributions (NDCs) commitments and the Paris Agreement in West Africa.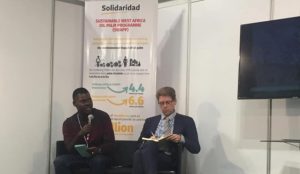 The smart projects and practices were presented at a side event the organisations collaboratively hosted at the Nigerian Pavilion at COP24, December 6, 2018.
Welcoming participants to the event and declaring the event open, the Director, Department of Climate Change, Federal Ministry of Environment, Nigeria, Dr. Peter Tarfa, appreciated the collaboration of the organisations as he stated that this is needed to find a collective solution to climate change challenges.
The organisations took turns to present their smart projects and practices that they have implemented.
Mr. John Baaki, WEP's Programme Manager, presented the following projects and practices by the organisation:
Trees planting project involving 2,000 trees across the FCT as well as Benue, Kano and Katsina states with support from Trees for Cities. This project, WEP said, would help to remove greenhouse gases from the atmosphere, prevent land degradation and provide a source of income for communities where the project has been implemented.
Solar dryer tent: WEP also constructed a solar dryer tent for the farmers of Adogo, a community in Nigeria's Mbaya district of Buruku Local Government, Benue State where sun drying was the only way to preserve produce as local women would lay fruits and vegetables on the ground to dehydrate them for future use. Sun-drying is unfortunately time-consuming and weather dependent and exposes food to contaminants like dust and insects. With the construction of solar dryer tent in the community, drying becomes faster, more hygienic and post-harvest losses would be reduced.
WEP also presented initiatives that advocate for the implementation of the Gender Action Plan of the UNFCCC in Nigeria as well as the initiative that trains women to upcycle waste plastic bags into shoes and other products.