The rapidly increasing spread of coronavirus (COVID-19) poses great threat to lives in rural communities due to the inadequacy of health care facilities as well as the absence of essential skills to fight the virus. In her bid to flatten the curve, Women Environmental Programme (WEP) under her GCERF funded PVE project "Connecting Women and Children in Violent Extremist prone areas through empowerment and Skills Acquisition Phase II" organized sensitization and awareness creation campaigns on COVID-19 in Ado, Agatu, Buruku, Guma, Logo and Kwande LGAs of Benue state.
The sensitization campaigns featured Traditional rulers, Religious leaders and town-criers. The awareness creation was aimed at bridging the knowledge gap on COVID-19 to ensure that all the necessary preventive and protective measures are understood and adhered to. The ambiguities surrounding the causes, cure, prevention and spread of the virus were cleared. Participants were provided with face masks, hand sanitizers, as well as pamphlets and posters with information to help community members protect themselves and others from infection by washing their hands or using an alcohol based hand sanitizer frequently and not touching their faces, practice social distancing where possible and self-isolate if they start to show symptoms such as: fever, tiredness, dry cough, shortness of breath, sore throat, aches and pains.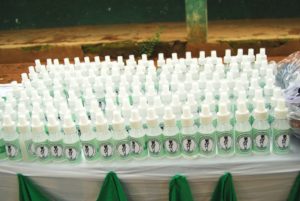 Also, young men and women in these communities were trained to produce face masks and hand sanitizers for distribution to vulnerable population members free of charge. This livelihood training is to serve as a means to alleviate hardship caused by the shutdown of economic activities during the pandemic period.