At the beginning of every year, it is a custom at Women Environmental Programme (WEP) to convene members of the Board and the workforce of the organization for an annual retreat to reflect on the activities of the organisation in the previous year and plan for the commencement of activities for the new working year.
To begin the year 2020, WEP organised a four-day Annual Retreat for Board members and staff from 20th – 23rd January, 2020 at Brooksville Hotel, Lokogoma, Abuja. The retreat was aimed at reorienting the team with WEP's guidelines of operations and organizational structure towards the achievement of the organisation's goals and objectives.
The retreat started with a self-introduction by the staff and board members present. This was followed with an opening address by the Acting Executive Director, Ms. Anne-Marie Abaagu.  She welcomed everyone to the 2020 retreat and affirmed that the year 2019 was tiring and demanding. She enjoined all to use this year's retreat to reflect on last year's achievements and challenges with focus on the new year in order to achieve the vision set out and aslo inspire to bring in new innovations as we look  ahead for greater years. She ended her remark with deep appreciation to all staff for all their efforts in the past year.
Participants at the retreat included: all WEP staff working in Nigeria and Country Directors of WEP Tunisia and WEP Togo. Some members of the Board were also present, they include: Barr. Winnie Lichuma, Prof. David Ker (OON), Dr. Reuben Ibiashwa, Dr. Jane Asagh and Prof. Kabiru Isyaku.
In the course of the retreat, participants were trained on: Organisational Risk and Integrity Assessment (ORIA) and Theory of Change Management. The 2020 work plan on WEP's four thermatic pillars of work was presented to participants as well. Other presentations made included: WEP Security Plan, Team Building, Activity Report, M&E Report, review of achievements and challenges, and update on activities and projects in WEP Togo and Tunisia.
The retreat was engaging, inspiring, enlightening, motivating, fun-filled and memorable as staff and board members interracted and contributed enthusiastically in all segments of the programme. A birthday song was sang on the last day of the retreat in honour of the founder of WEP, Dr. Priscilla Achakpa who was marking her birthday on 23rd January, 2020. Warm wishes, prayers and words of encouragement from participants followed in tribute to her.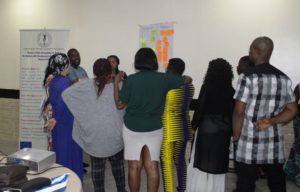 The founder and Global President of WEP, Dr. Priscilla Mbarumun Achakpa brought the retreat to a close. She began her remark with a brief history of how WEP started from a small room to an organisation that has grown to a point of impacting so many people. She said her stepping aside as Executive Director was delibrate and has given her the confidences of continuity with the in-depth assurance that WEP has grown beyond her. She emphasised that challenges may be experienced, especially for the foreign WEP office that are still young, however she advised them not to despair but work towards ensuring the WEP functions beyond support from Nigeria. She encouraged staff to employ more professionalism and commitment to ensure the growth of the organisation.