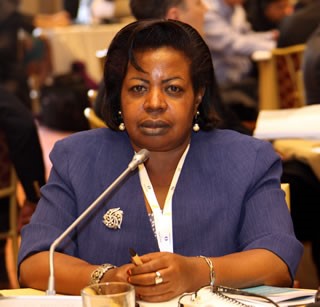 GERTRUDE KENYANGI KABUSIMBI
GERTRUDE KENYANGI KABUSIMBI holds a Bachelor of Science in Agriculture from Makerere University. She also has an MA in Integrated Rural Development Planning. Before she became a grassrrot mobiliser, she worked in the bank as a credit officer  She is the founder and chairperson of Support for Women in Agriculture and Environment (SWAGEN), a network of forest-edge, grassroots women Community Based Organizations. Her duties include identifying and designing interventions and mobilizing resources for Adaptation to and Mitigation of Climate Change, poverty alleviation, promotion of sustainable use and management of natural resources, advocating for human rights, promoting gender equality and other new and emerging issues such as food security, food sovereignty, etc.
She was democratically elected by Civil Society Organizations across the African continent to the position of Observer on the Climate Investment Fund – Forest Investment Program.
Ms. Kenyangi has also  served as;
the East Africa Region CSO representative to the Civil Society Mechanism Coordinating Committee, for engagement with UN FAO's Committee on Food Security.
Member of the Advisory Committee – 10 YFP Sustainable Livelihood Education Program (SLEP)
Africa Regional CSO Facilitator at UNEP