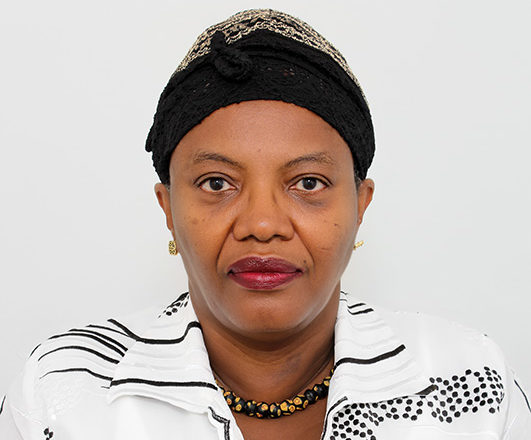 Angelina Ama Tutuah Mensah
Mrs. Angelina Ama Tutuah Mensah is the Director in charge of Corporate Communication at Ghana's Environmental Protection Agency (EPA) and also the National Expert and Negotiator on Response Measures, Gender and Climate Change to the United Nations Framework Convention on Climate Change (UNFCCC).
She co-authored "Ghana Climate Change Impacts Vulnerability and Adaptation Assessment) under the Netherland Climate Assistance Programme (NCAP).  She is a Fellow of NUFFIC and Langkawi Awards she is currently a member of Ghana's Gender Working Group that provide technical support and lead in the coordination of various activities and actions related to gender under the Nationally Determined Contribution (NDC) Support Programme in particular, the integration and mainstreaming of gender in the overall implementation of Ghana's NDCs. Her current research work in respect to the above is the Development of a country specific gender mainstreaming toolkit to facilitates mainstreaming of Gender into the NDCs implementation in Ghana.
Additionally, she is the Lead Coordinator in the implementation of the EPA and the International Labour Organization's (ILO) Macroeconomic model called the Green Jobs Assessment Model (GJAM) to assess social and employment impacts on responses of the Nationally Determined Contributions in Ghana.
Equally, she is involved in the study of Ghana's National Communication and the Biennial Update Report (BUR) an obligation under Articles 4 and 12 as Party to the UNFCCC. Specifically, the study of the National Communications is in the area on cross cutting issues relating to "other information" that border on Gender and Article 6 and; and in respect to the BUR also gender and response measures.
She is a member of the Capacity Building Initiative for Transparency Project under UNEP and GEF that seeks to strengthen national institutions for transparency related activities in line with national priorities.
She also designs and delivers training in Gender, Youth and Climate Change to the Decentralised Assembly, Religious Groups, Media Practitioners, Civil Society Organizations and some Senior High Schools in the Country.
She is a columnist in both a National Weekly paper called "The Weekly Spectator" under the name "Think About This" and a guest writer for the nation's largest state-owned newspaper "The Daily Graphic".