Import and export trade are some of the contributors to economic growth which leads to poverty reduction and improved living conditions. Import and export trade can lift many out of poverty in Nigeria where 87 million people are poor,  and in Niger where more than 40 percent of the population earn less than $1 a day. A reasonable number of those who live in poverty are women as observed by UN Women that more women than men live on less than $1.90 a day.
Research shows that small scale cross-border trade supports livelihoods of vulnerable households and that, most of Africa's small-scale traders are female.
As important as the cross-border trade is in lifting women out of poverty, several challenges are encountered by women who engage or would have engaged in this trade which affect the gains they would have made. Some of these challenges are insufficient capital, deficient infrastructure, cumbersome regulatory and documentary requirements amongst others.
To assist women to overcome these challenges in cross-border trade and reap the benefits therein for overcoming poverty and achieving gender equality, Women Environmental Programme (WEP) with support from the African Women's Development Fund (AWDF) has initiated a project: "Promoting Women's Socioeconomic Rights (POSER)," aimed at promoting cross-border trade opportunities for women around Niger-Nigeria trade corridor. This project has the following objectives:
To mainstream gender into national and regional trade policies
To protect the human rights of women small-scale traders
To ensure institutions responsible for policy implementation are gender-responsive
To promote women's access to financial support
To commence the implementation of the above project, WEP team between 25-28 February 2020 was in Katsina, Nigeria and Maradi in Niger, for project start-up meeting and sensitization of stakeholders relevant to cross-border trade. It was pertinent to get these stakeholders to be aware of this project and seek their cooperation for its success. From 25-26 February, WEP convened a project start-up meeting at Katsina Tourist Lodge with civil society organizations from Nigeria and Niger, where the project was discussed, and roles clarified between WEP and the partnering civil society organizations who are critical to support our advocacy to achieve the project objectives. After the project start-up meeting where WEP and partner civil society organizations strategized on how to implement this project, a high-level advocacy meeting that brought together relevant government agencies to cross-border trade was organized at the same Katsina Tourist Lodge. The Nigerian Customs Service, Central Bank of Nigeria, National Identity Management Commission, Department of State Services (DSS), were some of the government agencies that participated in the high-level advocacy meeting. All the agencies present gave their word to support the project towards providing business opportunities for women. "We are available to give any support to empower women in transborder trade and guide them on the procedures of engaging in transborder trade," said the representative of the Zonal Controller, Nigerian Customs Service, Katsina Command. Similarly, the representative of the Branch Controller, Central Bank of Nigeria (CBN), Katsina State, assured that, "as the agency responsible for the provision of foreign exchange and guidelines for trade, we shall work with the project team to support women cross-border traders in any way we can." The CBN representative also highlighted some of the financial instruments that small-scale cross-border women traders can benefit from the CBN. Since carrying huge cash is another challenge for women cross-border traders, the National Identity Management Commission of Nigeria also promised to support in addressing this challenge by ensuring it produces national identity cards for women cross-border traders which also serve as a master card and can hold as much as 4 million Naira.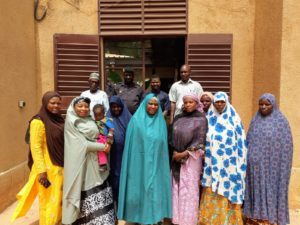 From Katsina, Nigeria, the advocacy team moved to Maradi in Niger Republic on 28 February 2020, where the team held meeting with some government agencies and some women cross-border traders at the office of Niger/Nigeria Joint Cooperation Commission (NNJCC) to seek for their cooperation to the project. Some of the agencies met with were the Police, Customs, Chamber of Commerce and officers of NNJCC. Just like in Nigeria, all expressed their commitment to see the project succeed.
Having prepared the ground, we shall roll out the activities of this project in the coming months. We shall start by carrying out a comprehensive assessment into the specific challenges faced by women cross-border trade around the Niger-Nigeria border with the view of making appropriate recommendations to addressing the identified challenges. We shall provide training to border managers on mainstreaming gender in their operations. Similarly, we shall provide training to cross-border women traders to understand regional and national trade policies and the step by step procedures of engaging in a legal cross-border trade. We shall provide a forum for women cross-border traders, relevant government agencies and civil society organizations to discuss issues affecting them pertaining cross-border trade, opportunities that exist, and best practices.
At the end of this project, the following are expected to be achieved: enhanced gender sensitive border management, increased financial support programs for women cross-border traders, strengthened relationship between women cross-border traders association and border officials, increased understanding of national and regional trade policies, and enhanced skills in business management by women cross-border traders.