Event Navigation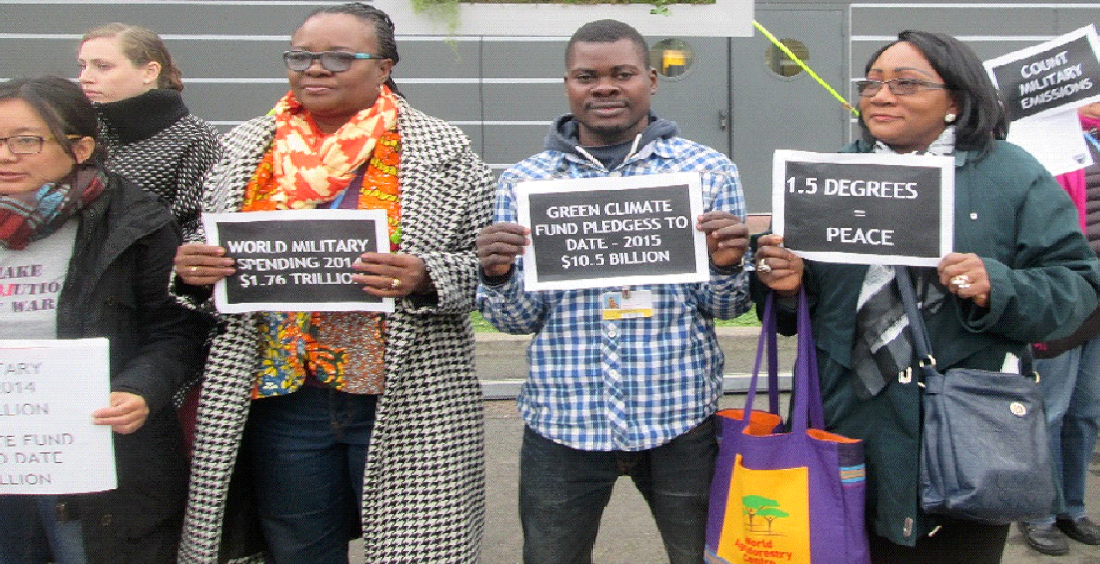 Women's Global Call for Climate Justice
September 18, 2015 @ 12:00 am
at Abuja, Nigeria.
One of the actions by women at COP 21, in Paris, demanding for climate justice. 2nd from right is John Baaki, Programme Manager, Women Environmental Programme.
Towards the 21st Conference of Parties (COP21) to the United Nations Framework Convention on Climate Change (UNFCCC), held in Paris, France, in December 2015, where another climate agreement was reached, Women Environmental Programme (WEP) in collaboration with some of her partners around the globe, with support from Women's Environment and Development Organization (WEDO) launched a global campaign for climate justice.
Worried that women and girls around the world have continued to face severe impacts of climate change due to lack of just and sufficient actions on climate change by the world's leaders, as governments of the world were moving too slowly, with too little effort, and without the ambition, commitment and financing that it would take to stop or reverse the global climate crisis, women launched this call to demand for climate justice from world's leaders.
WEP kicked off her global campaign for climate justice in Abuja, Nigeria on 18th of August, 2015, during a forum she collaborated with Federal Ministry of Women Affairs and Social Development (FMWASD) to convene – an agenda setting forum on SDGs, titled: "SDGs: Leave no Nigerian Woman Behind" at the Secretary to the Government of the Federation's Conference Room, Federal Secretariat Complex, Phase 1, Central Area, Abuja.
This was followed by a One-Day Consultative Forum on Gender-Responsive Climate Agreement at COP 21, at the Conference Hall of Heinrich Boll Foundation, Rukkayat Plaza, Jabi Abuja, on 9th September, 2015. This forum was used to consolidate and articulate the position of Nigerian women on the potential climate agreement that will be reached in Paris. The forum which brought together rural women across the country, women organizations, civil society organizations, government institutions, private sector and the media, saw women told stories of how they have been impacted by climate change. See Climate change, WEP and women stories   
After this forum, WEP continued with her campaign for climate justice through advocacies to relevant stakeholders, media campaigns and climate actions at rural and urban communities in Nigeria.
The campaign for climate justice climaxed at COP 21 in Paris, where different women organizations and Women's Major Group came together and staged several actions ranging from side events, media conferences, meetings with heads of governments, climate marches, to push their demands in the new global climate agreement.
At COP21, WEP in collaboration with Women in Europe for Common Future (WECF) and Women's Environment and Development Organization (WEDO), organized a side event on Gender Just Climate Solutions where WEP showcased the works of the organizations that help women to mitigate the impacts of climate change. WEP's John Baaki also participated in UNESCO side event on World Water Assessment Programme and made a presentation on "Nigerian Perspective on Water, Gender and Climate Change."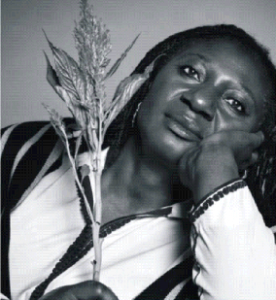 The role of Women Environmental Programme in the global campaign for climate justice towards COP 21 was recognized globally as WEP's Executive Director, Priscilla Achakpa was featured by Vogue magazine as one of the 13 women "Climate Warriors" who were on the front line for climate justice.
"The impact of climate change on women is huge. The men are forced to migrate and they leave the women, who are now the caregivers because they find they cannot leave the children . .We don't want a top-down solution.  "We want bottom-up. But we need to be at the table."
– Priscilla Achakpa in Vogue's Climate Warriors
---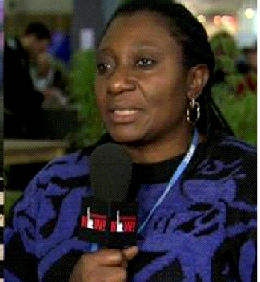 "…when it comes to the issues of negotiation, the African women are most of the times completely absent or nearly absent. And this is something that is very important for us, because we cannot be talking about negotiations that half of the populations are affected, which are the women. And then, the issues that are being discussed, they are completely being neglected, or they're not even involved at all. For us, coming from the background of Africa, this is something that is very crucial for us, and it's something that we want our leaders to really take on board and look at it very critically, because we cannot be discussing the issues that affect us without us being at the table to negotiate these issues."
–  Priscilla Achakpa's interview with Democracy Now during COP 21, in Paris, France African women hit hardest by climate change
The Women's Global Call for Climate Justice demanded the following actions from organizations, individuals and governments of countries and for incorporation into the new climate agreement:
System change not climate change

Avoiding a 1.5 degree global temperature rise   

Ensuring gender equality and human rights in all climate actions  

Keeping oil and fossil fuels in the ground

Transitioning to 100% safe and renewable energy

Implementing energy efficiency and conservation measures everywhere, by everyone

Dramatic and urgent reduction in production and consumption patterns by everyone, including and especially by those who have contributed the most to this problem from the developed world

Commitment by developed countries to take the lead in the fight to address the climate crisis and to provide developing countries with the means to mitigate and adapt to climate change, in a spirit of solidarity and justice.