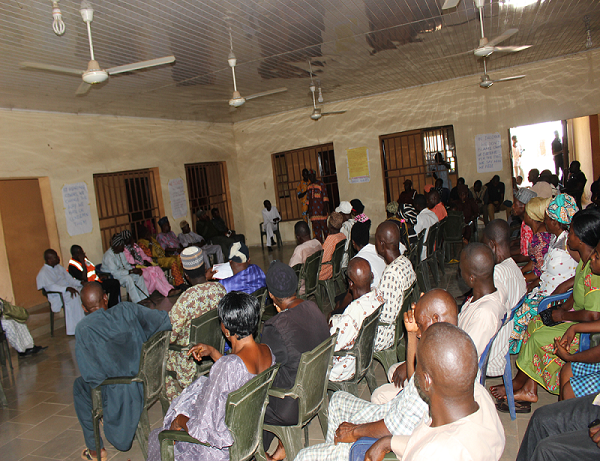 Connecting Women and Youth in Violent Extremist Prone Areas Through Empowerment and Skills Acquisition
August 3, 2017 @ 8:00 am

-

5:00 pm

at
Recently, the violence in the middle belt region of Nigeria has taken a trend similar to extremist activities of Boko Haram Islamic sect. Bomb blasts and carefully planned massacres have become common place in middle belt states. It is believed that Boko Haram extremist group which before now limit their operations in the North East are strategically migrating to the middle belt region, disguising as victims of crisis in the North East and secretly wooing the youth into their extremist ideologies. It is feared that due to ignorance of many youth and their poor economic status in the middle belt region, they may be enticed to accepting violent ideologies from unsuspecting members of Boko Haram Sect and from politicians and other individuals who may use them to pursue their causes violently.
To curtail the above, WEP in 2016 designed a project titled "Connecting Women and Youth in Violent Extremist Prone Areas Through Empowerment and Skills Acquisition in Benue State." This action received funding support from Global Community Engagement and Resilience Fund (GCERF). The project is planned to be implemented under a consortium arrangement with WEP serving as the Principal Recipient while four (4) other organizations serve as Sub-Recipients. The Sub-Recipients are: Angel Support Foundation (ASF), Center for Development and Social Justice (CDSJ), Gender and Environmental Risk Reduction Initiative (GERI) and Foundation for Justice, Development and Peace (FJDP). This project comprises of 5 different initiatives each with specific objective and outcome, but all working together to achieve the goal of preventing violent extremism in Benue State in particular and Nigeria at large.
The initiatives are as follows:
Initiative 1 – Preventing recruitment and radicalization of in-school youth with the objective to contribute to preventing recruitment and radicalization of 16,000 in-school youth (primary, secondary and tertiary institutions) between 15 and 30 years of age in Ado, Agatu, Kwande and Logo Local Government Areas of Benue State through sensitization, guidance and counselling, monitoring and creative life-skills development.
Initiative 2 – Providing Livelihood Support to Out-of-School, Unemployed and Unskilled Youth – with the objective to provide livelihood support to 268 out-of-school, unemployed, and unskilled youth between 18 and 35 years of age in Ado, Agatu, Kwande and Logo Local Governments of Benue State by the end of the second year of this project.
Initiative 3 – Disarmament of armed youth – with the objective create conditions that will contribute to disarmament, demobilization and reintegration into the communities of 55 armed youth (militia) between 18 and 35 years of age in Ado, Agatu, Kwande and Logo Local Government Areas of Benue State
Initiative 4 – Preventing Incessant Crisis Between Herdsmen and Indigenous Farmers – with the objective prevent incessant crisis between Fulani herdsmen and farmers in Agatu, Logo and Kwande Local Government Areas of Benue State and to expose other actors who may disguise as herdsmen or farmers to create confusion between the two groups.
Initiative 5 – Conflict management – with the objective to restore peace among the warring parties or communities in Ado, Agatu, Kwande and Logo Local Governments, and to provide support to victims of herdsmen attacks and violent conflicts in Agatu, Ado, Kwande and Logo local governments.
The project commenced with the inception workshop that was held in Makurdi, Benue State Capital on 19th of October, 2016 at Hallydays Hotel, where different stakeholders from the target Local Governments were in attendance and were adequately briefed about the different initiatives of the project and their expected roles towards its success.
After the inception workshop, the consortium members undertook a baseline survey in the target Local Governments to ascertain the situation of issues that the consortium had planned to intervene in. Data collectors were recruited and trained from 21st – 22nd October 2016 at Smile View Hotels, David Mark Bye-pass, Makurdi, after which they were deployed to the communities to gather relevant information that will assist in the implementation of the project. The implementation of activities under this project is in top gear. The project will end by 2018.