Women Environmental Programme (WEP) on Wednesday, 11th March 2020 organized a programme themed: "Breaking Gender Inequalities," to mark this year's International Women's Day (IWD). The programme held at WEP's head office at Block E Flat 2 Anambra Court, Gaduwa Estate, Abuja.
This year's International Women's Day has a theme: "Generation Equality: Realizing Women's Rights for an Equal Future," which calls for equal pay, equal sharing of unpaid care and domestic work, an end to sexual harassment and violence against women and girls, health care services that respond to their needs, and their equal participation in political life and in decision-making in all areas of life.
The programme, "Breaking Gender Inequalities" was a forum deliberately designed by WEP to change mindsets of participants, share experiences, facilitate learning and unlearning, and to inspire participants to gender-sensitive actions.
To set the right tone, the event was heralded by the Women's Anthem that was passionately sang by the participants:
So sing a song for women everywhere
Equality, development and peace…"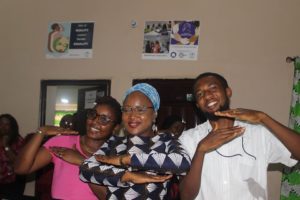 After the Women's Anthem, WEP Team was set to break gender inequalities held as beliefs, values, norms and ideas by some participants.  Breaking gender inequalities was done by interrogating the beliefs, values, norms and ideas of participants by posing some questions or statements that required yes or no as the answer and further justification of the answer. This triggered debate and analysis among participants as they justified their answers. For every question or statement, after the debate from the participants, WEP team lent their voice to point participants to answers that were more gender sensitive.
Some of the questions or statements made were:
It is important to train a girlchild to be a good wife
Women are not many in public leadership positions because they don't come out to take their place
Men have the ultimate authority to decide whether women access political leadership positions or not.
From the discussions that ensued trying to justify their positions on a statement or question, it was clear to WEP team if participants were gender bias, and thus the biases were addressed.
Participants were encouraged to respect the rights of everyone irrespective of whether they are men or women and to also train their female children the same way they would train their male children, as every child has right to be educated, and only then will they contribute meaningfully to the development of the society. The minds of participants were also disabused about the position held by many that women are not many in political offices because they don't come out to support themselves. Participants were made to understand that for a very long time culture and religion have been used to manipulate the political system in such a way that women work against themselves. As a signatory to the Convention on Elimination of All Forms of Discrimination Against Women (CEDAW), Nigeria ought to be deliberate on ensuring more women have access to political positions by implementing affirmative action in her laws and policies as recommended by CEDAW. The myriad of social and cultural issues affecting full realization of women's rights can only be achieved with deliberate actions. Participants were also advised to walk away and not stay comfortable in abusive relationship as it is better to break such relationship before it breaks you.
At the end of the programme, many participants expressed appreciation to WEP for the new things they learnt and for the things they unlearnt. "This event is therapeutic. It has made me heal as I spoke about the things I have been holding for long," confessed one of the participants.
WEP will continue to advocate for gender parity because, "gender parity is not good for women, it is good for societies."